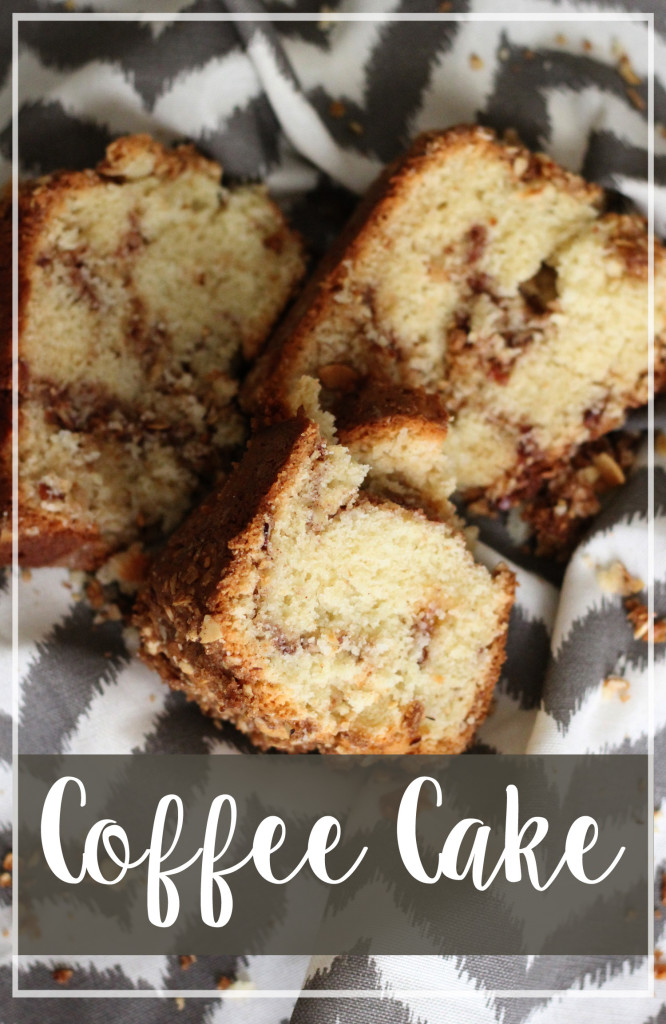 Coffee cake is one of those desserts that can be made in so many different ways and with many different flavors. This is just a basic coffee cake recipe given to Marguerite by another of her teaching colleagues, Susie Matha. Sometimes, plain and simple recipes are the way to go.
Here is what Susie had to say: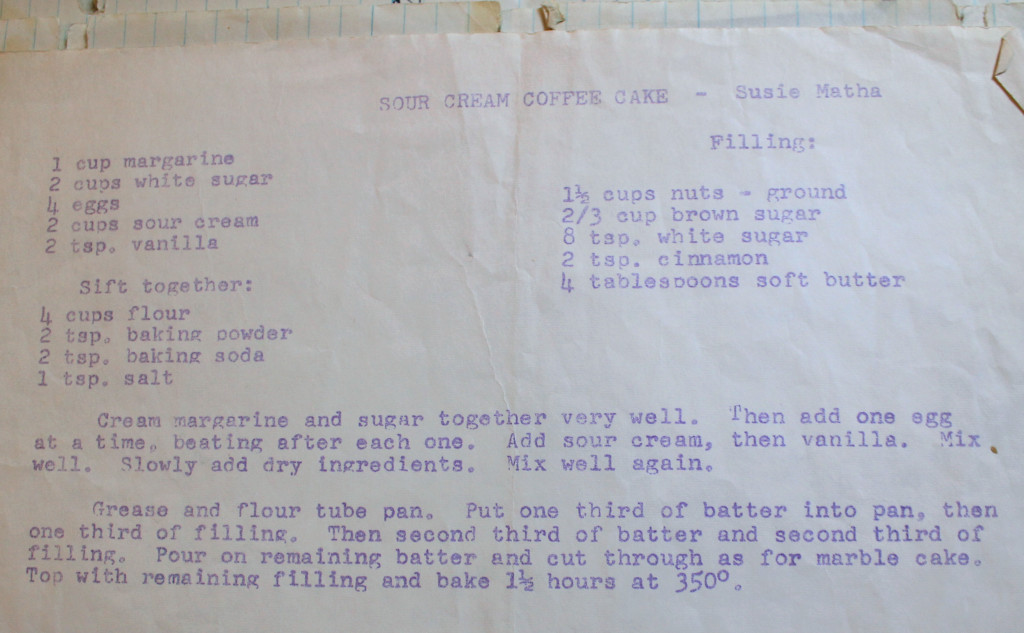 First things first, Aaron was confused that this recipe was called sour cream coffee cake and he was confused that the recipe did, in fact, contain sour cream. He did not realize that sour cream can be a common ingredient in baked goods. He also didn't realize how much work could go in to preparing a baked good to be made. We both felt that it took a bit too long of a time to put together, between the combining of ingredients, the grinding of nuts, and the layering of batter and filling in the pan. But it was sooooooo delicious.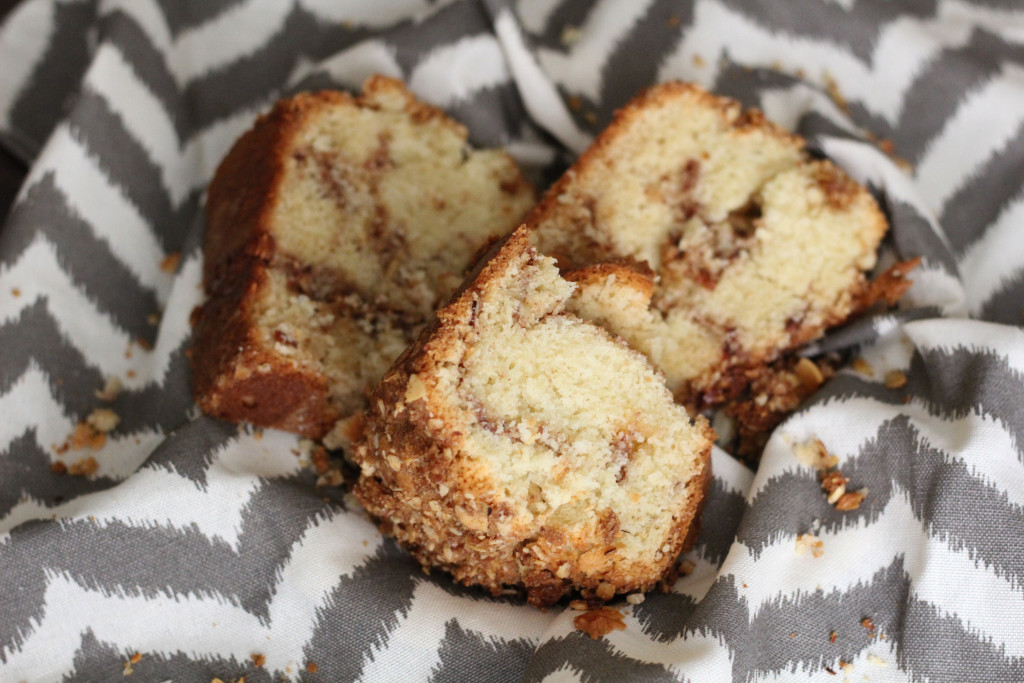 It was soft and spongy like a well made cake should be, plus the cinnamon, sugar, and nuts (we used almonds), made a delicious filling. We made sure to grease and flour the pan before pouring the batter, which was great help in removing the pieces of cake after baking.
The aroma of this cake filled our apartment for like two hours. By the time we cut into it, we we're impatient and hungry. Cutting the coffee cake a little too soon caused it to be too soft and to crumble as we tried to take it out. Once cooled the cake was easy to cut and plate to eat. Was it ever delicious! I wasn't crazy about how brown the sides and bottom got, and that may be due to over baking it, or even due to the type of tube pan we used. But I did enjoy the insides of the coffee cake. Aaron enjoyed it greatly as well. He, of course, enjoyed several pieces along with coffee.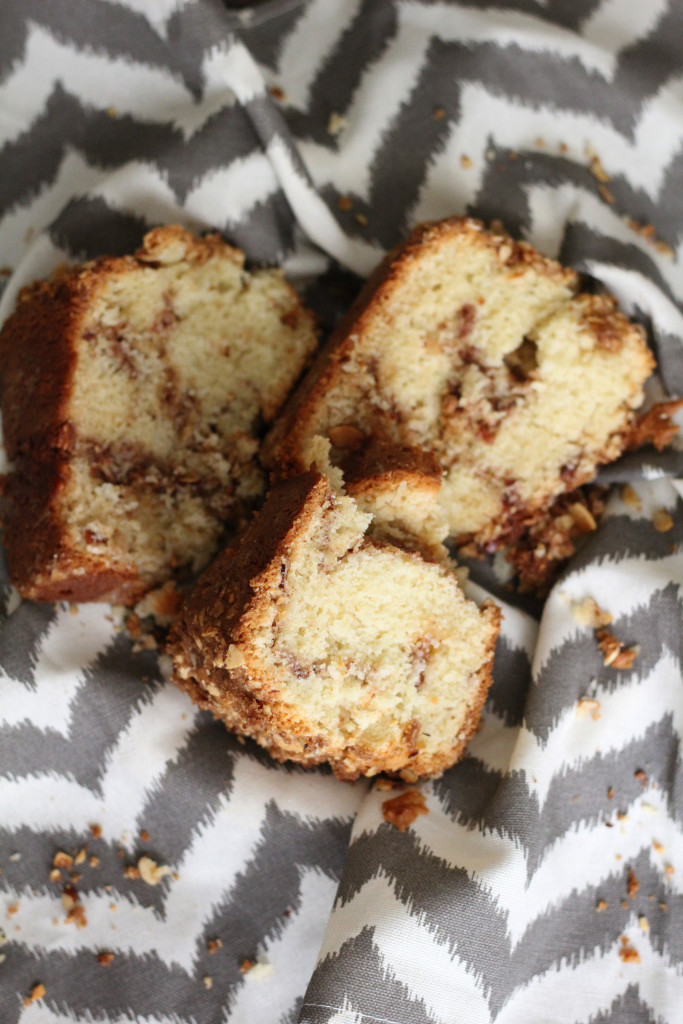 Thankfully for both of us, Aaron took the extra to share with his coworkers. They also really enjoyed it and upon cleaning out the container it was in, told Aaron he could "take it home and fill it with more coffee cake!" I think we would consider that a great success.

Servings

Prep Time

1

cake

40

minutes
Servings

Prep Time

1

cake

40

minutes
Servings

Prep Time

1

cake

40

minutes
Servings

Prep Time

1

cake

40

minutes
Preheat oven to 350 degrees.

Cream butter and sugar together very well.

Add one egg at a time, beating after each one.

Add sour cream, then vanilla.

Sift together dry ingredients, then slowly add dry ingredients to wet ingredients. Mix well again.

Combine filling ingredients.

Grease and flour tube pan. Put one third of batter into pan, then one third of filling. Then second third of batter and second third of filling. Pour on remaining batter and cut through as for marble cake. Top with remaining filling and bake one and a half hours at 350.