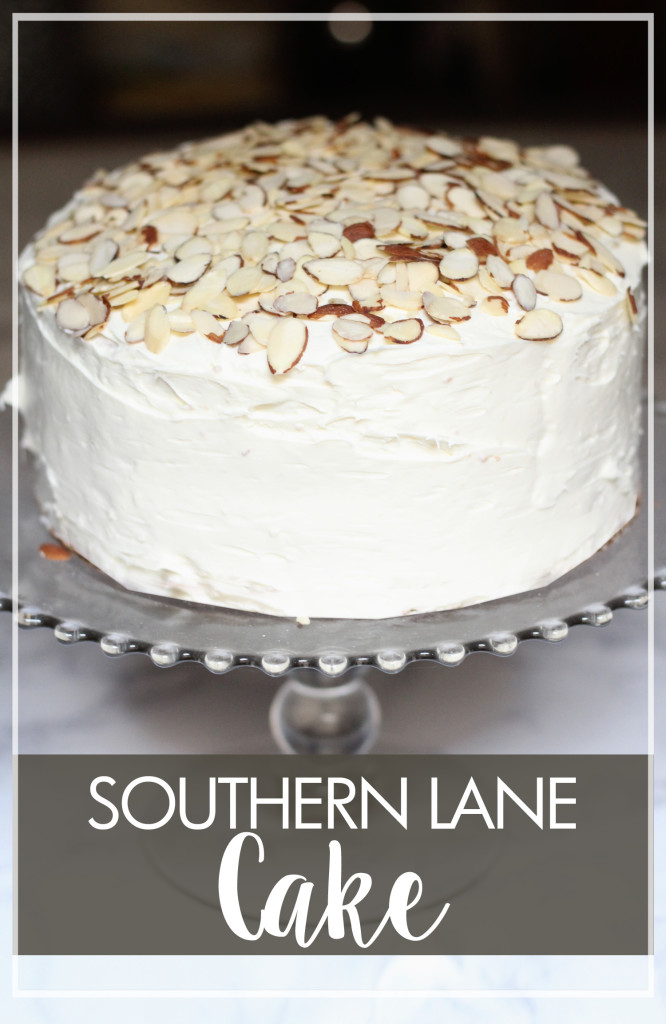 I hope everyone out there is having a good start to their new year. Some of you may be working on a resolution to eat healthier. While we are also attempting that goal, there is an important milestone that requires this week's recipe to be a cake. It's Marguerite's Cookbook's birthday! That's right, we launched Marguerite's Cookbook a whole year ago, and knew that we wanted to do one of Marguerite's many cake recipes as a birthday treat to ourselves. This Southern Lane Cake turned out to be an excellent choice that was fun to make and delicious to eat.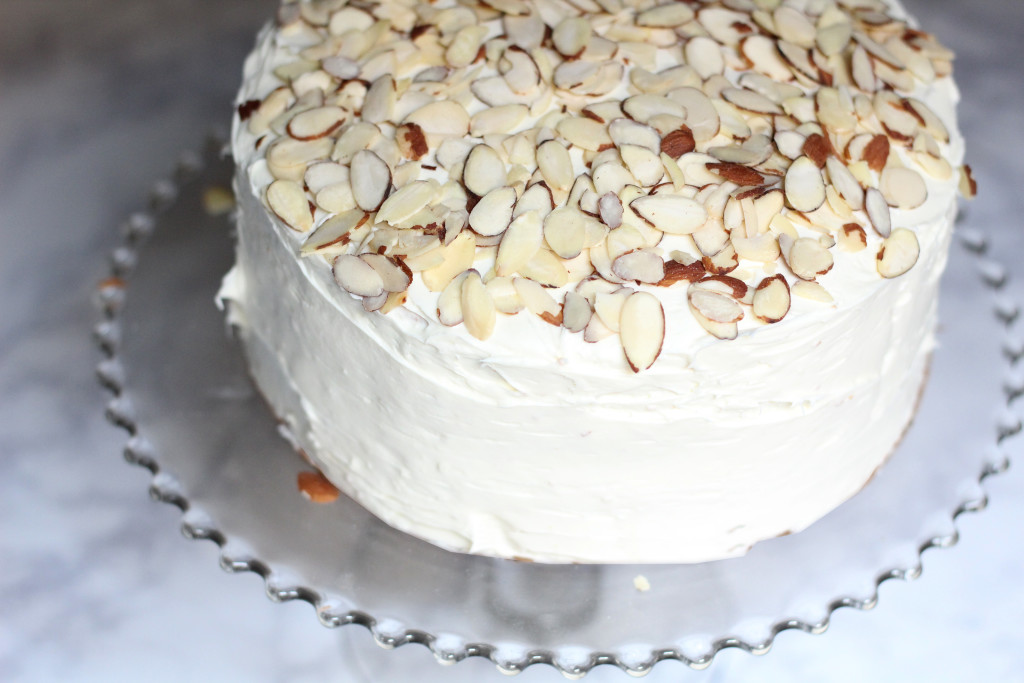 Here's what Marguerite had to say: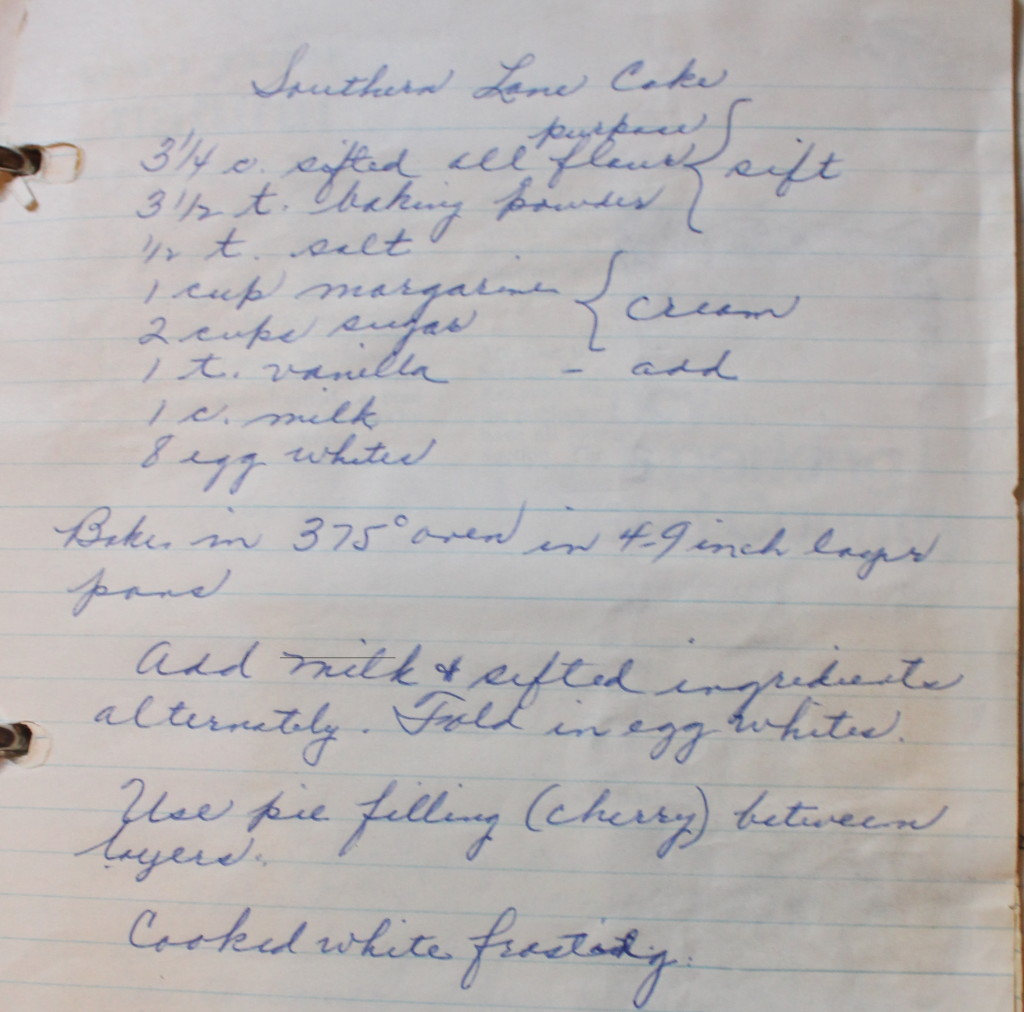 As usual, the planning for this recipe required a little more work than just reading Marguerite's notes. I had to research how long to bake the layers for, what a cooked white frosting was (more on that later), and a little more about just what a Southern Lane Cake was. That's where I discovered that some fillings or icings included things like nuts, which is why I decided to put some almonds on top of the cake.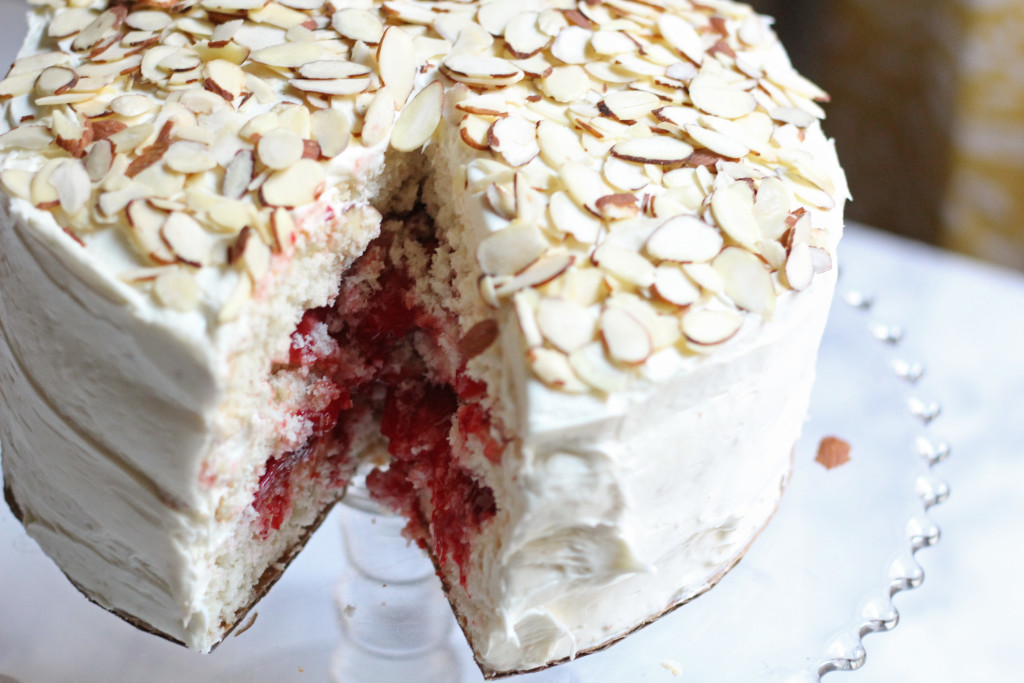 As you may or may not be able to tell, there are only three layers in the final product here. I'd like to say that is on purpose, but of course I made a little mistake and was forced into the decision. We have a tiny oven in our current kitchen, and it was a struggle fitting two 8″ and two 9″ pans into it. On top of that, the two sets of pans are not the same ages and not the same shade of aluminum. In the end, one of the four layers burned while the others turned out great, so the height of our cake was decided for me. I do think a three layer cake looks great though!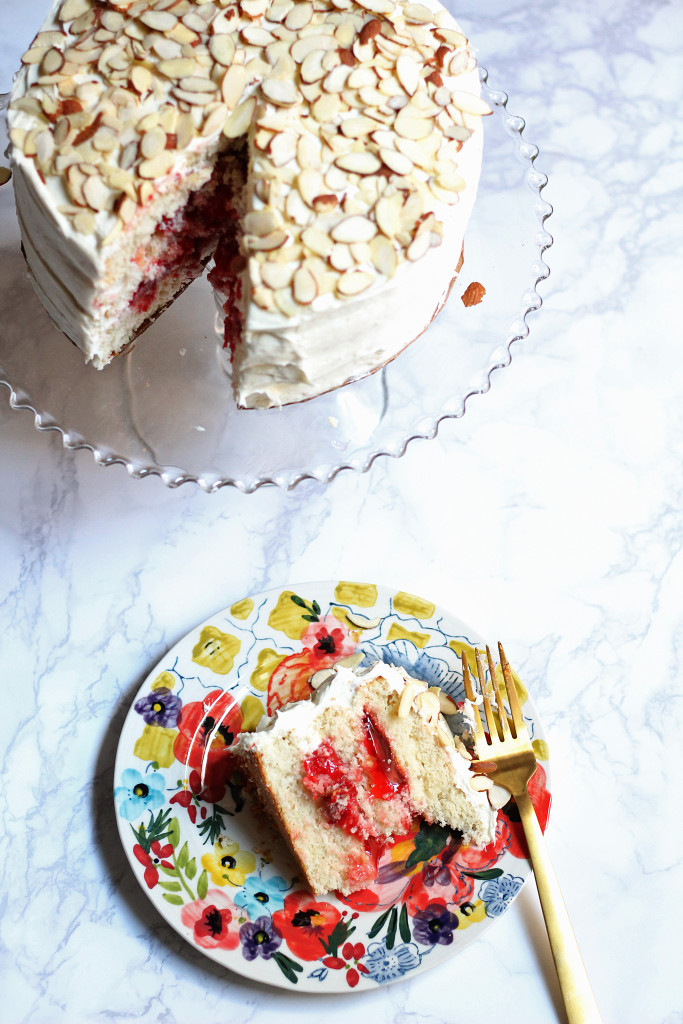 I also had some trouble in attempting to make a homemade icing, so instead I just used some plain store bought white icing. That is why there is no accompanying icing recipe to go along with the cake. As great as it can be to make something by hand, Marguerite knew the value of making it easier when she needed to, too! In my opinion, the lack of homemade icing did not take away from this cake at all!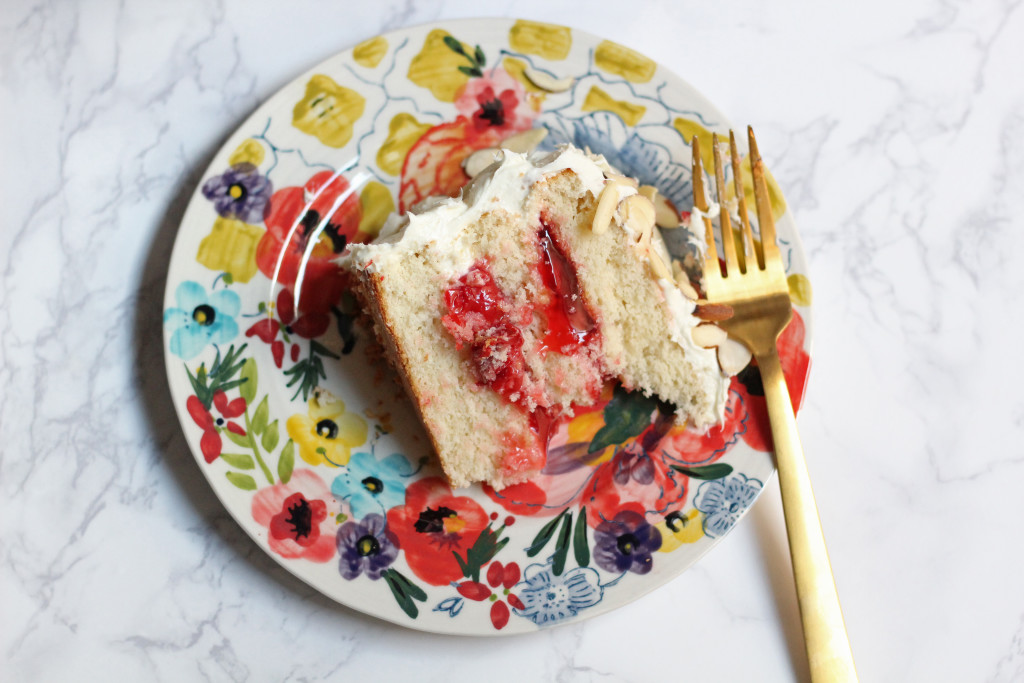 This "blogiversary" cake was delicious. I used to not like cakes with fillings, or filling that wasn't more icing. Now that I am older and wiser I have seen the error of my ways and am less narrow-minded towards filled cakes. The actual cake parts cooked great, and were light and moist. The combination of the cake, cherry pie filling, and icing worked very well together to make this a very enjoyable dessert. Shannon agreed that this cake was tasty, but was happy to see it go to work with me so we didn't eat it all.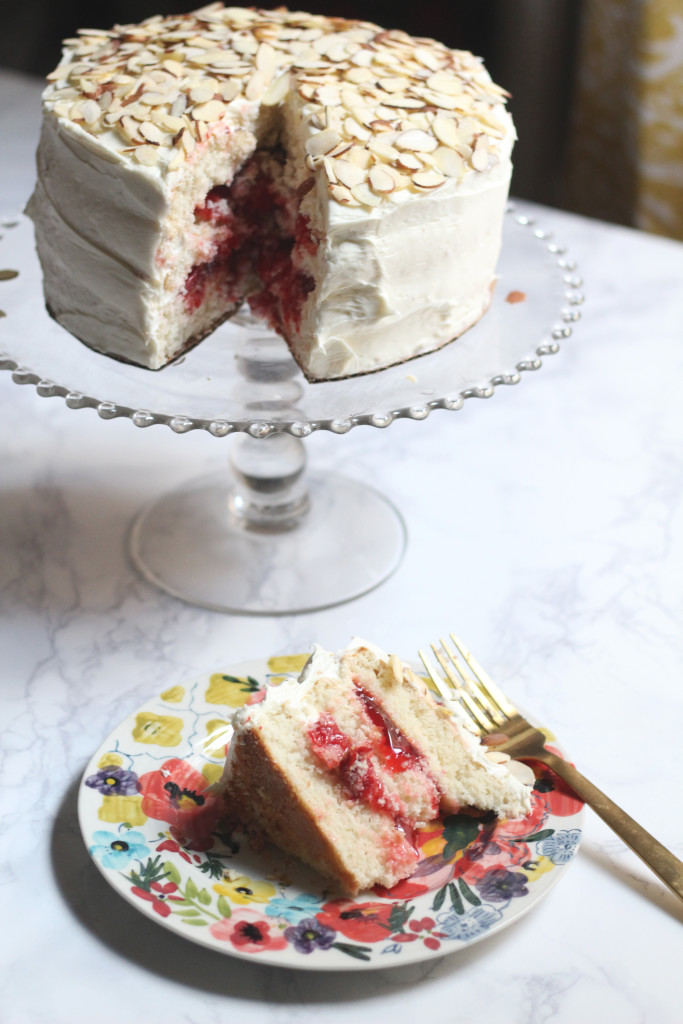 My favorite part of this Southern Lane Cake was putting it together and decorating it with Shannon. She took a Wilton cake decorating class before so she is the resident cake expert. Making icing walls to hold the cherry pie filling and stacking the layers on top of each other together was a lot of fun. I also love spreading icing, so I got to do that over the whole cake, too. Here's to the first year of Marguerite's Cookbook. Thanks for spending some time with us and with Marguerite. We had a great first year, and hope to have many more to come!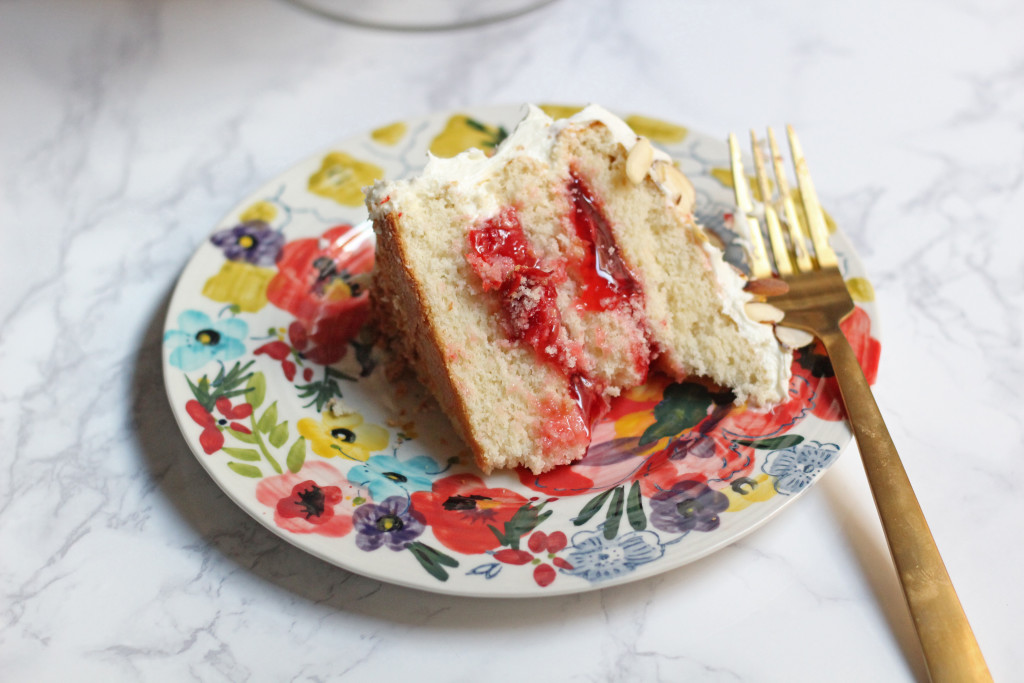 Servings

Prep Time

1

cake

25

minutes
Cook Time

Passive Time

20-25

minutes

1

hour
Servings

Prep Time

1

cake

25

minutes

Cook Time

Passive Time

20-25

minutes

1

hour
Servings

Prep Time

1

cake

25

minutes
Cook Time

Passive Time

20-25

minutes

1

hour
Servings

Prep Time

1

cake

25

minutes

Cook Time

Passive Time

20-25

minutes

1

hour
Preheat oven to 375 degrees. Grease and flour 4 nine inch round layer pans.

Cream butter and sugar. Add vanilla.

Combine dry ingredients (flour, powder, salt). Alternately add dry ingredients and milk to creamed butter and sugar.

Let layers cool before constructing cake using cherry pie filling and icing. Add nuts like almonds to the top if desired.